You ain't
seen nothin' (on TV) til you've seen Planet Earth on Blu-Ray on a shiny new HD-TV. And while the pika were ten times as adorable than normal and the pitcher plants were mouthwateringly juicy, the Caves chapter stole my imagination...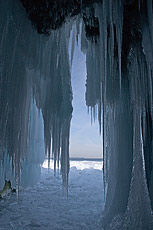 Stalactites always remind me of pipe organs, and pipe organs remind me of churches, and churches remind me of... weddings. When I went to Mammoth caves, they actually had a huge cavern where weddings were often held. However, my cave tastes lean towards the icy and sparkling...
These are called Popcorn Formations, I think, and I imagine little crystalline balls connected together as abstract centerpieces... or maybe they could be edible, like Snoballs. Or--- maybe have jars of clear rock candy around...
Spider worms create these sticky strings to catch their meals in... Wouldn't it be fantastic to have clear beads and little LED lights draping from the cieling?
.